 Luxury Apartment In Golfe Juan

On the coast between Cannes & Antibes, Golf Juan-Valluris, enjoys stunning views of the Med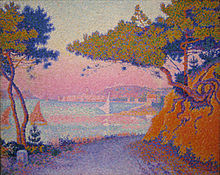 Golfe-Juan Vallauris
belongs to the commune of Vallauris, which in turns belongs to the Provence-Alpes-Côte d'Azur region of France. The area is served by the Golfe Juan-Vallauris railway station.
On March 1, 1815, Napoléon Bonaparte landed at Golfe-Juan with 600 men, having escaped exile on the island of Elba. His return to Paris, commemorated by the Route Napoléon, and the campaign that led to his ultimate defeat at the Battle of Waterloo are known as the "Hundred Days".
"Golfe Juan" is also the name of a pointillist painting done by Paul Signac (1863-1935), a French neo-impressionist, in 1896.
Golfe Juan by Paul Signac
The Côte d'Azur, pronounced [kot dazyːʁ], often known in English as the French Riviera (French: Côte d'Azur; Occitan: Còsta d'Azur; that is "Azure Coast"), is the Mediterranean coastline of the southeast corner of France, also including the sovereign state of Monaco. There is no official boundary, but it is usually considered to extend from the Italian border in the east to Saint-Tropez, Hyères, Toulon or Cassis in the west.[1][2]
This coastline was one of the first modern resort areas. It began as a winter health resort for the British upper class at the end of the 18th century. With the arrival of the railway in the mid-19th century, it became the playground and vacation spot of British, Russian, and other aristocrats, such as Queen Victoria and King Edward VII, when he was Prince of Wales. In the summer, it also played home to many members of the Rothschild family. In the first half of the 20th century it was frequented by artists and writers, including Pablo Picasso, Henri Matisse, Edith Wharton, Somerset Maugham and Aldous Huxley, as well as wealthy Americans and Europeans. After World War II it became a popular tourist destination and convention site. Many celebrities, such as Elton John and Brigitte Bardot, have homes in the region. Officially, the Côte d'Azur is home to 163 nationalities with 83,962 foreign residents,[3] although estimates of the number of non-French nationals living in the area are often much higher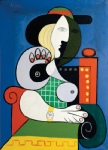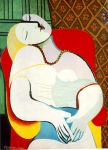 Golfe Juan-Vallauris as been the home to many famous artists, Picasso to name but one. The Picasso & Jean Marais Museum & workshop can be found in Valiiauris